The Kálfafell Turnip
Akureyri Art Museum
25.05—11.11.2022

In Brák Jónsdóttir's exhibition, she ties the bonds of reality and fantasy together in research of the mysterious Kálfafell turnip. In her work she is a seeker of the gap between the imaginary and real. Ideas levitate and take control of the mundane. Everyday objects are contextualised anew. Brák's aesthetics are peculiar and sensual, they evolve around the enquiries of the body, textures and forms and her process is driven by curiosity and playfulness, she applies herself physically in her work as evident in the end result. The installation places the Kálfafell turnip in an environment designed to enhance the mystique and deep rooted culture surrounding it.

The Kálfafell turnip is an Icelandic breed that Lárus Helgason's family has preserved in Kálfafell for over a century. Its seeds are heirloom seeds; pass from one generation to the next as if some kind of a family heirloom in this form. People who collect heirloom seeds are idealists spurred on by true passion. Not only do they protect the seeds themselves, but maintain knowledge of them at the same time and keep them in this way part of our culture. The Kálfafell turnip's seed was researched and findings indicated that its DNA is universally unique. Farmer Lárus has pondered, with that in mind, the origin of the turnip in Kálfafell. He has for instance considered the possibility that the turnip came from space and exists because of space radiation.

The exhibition incorporates nods to the worlds of science, museums and collections, storage, and the various mediums of art combining to shed a new light on the Kálfafell turnip. We are reminded of the human need to measure things by comparison to ourselves, move them out of place and adjust our surroundings to suit our ideals, to preserve what is considered rare. Human interest in unique texture and beautiful colors is depicted, interest in mysterious things that flirt with the idea of supernaturalism.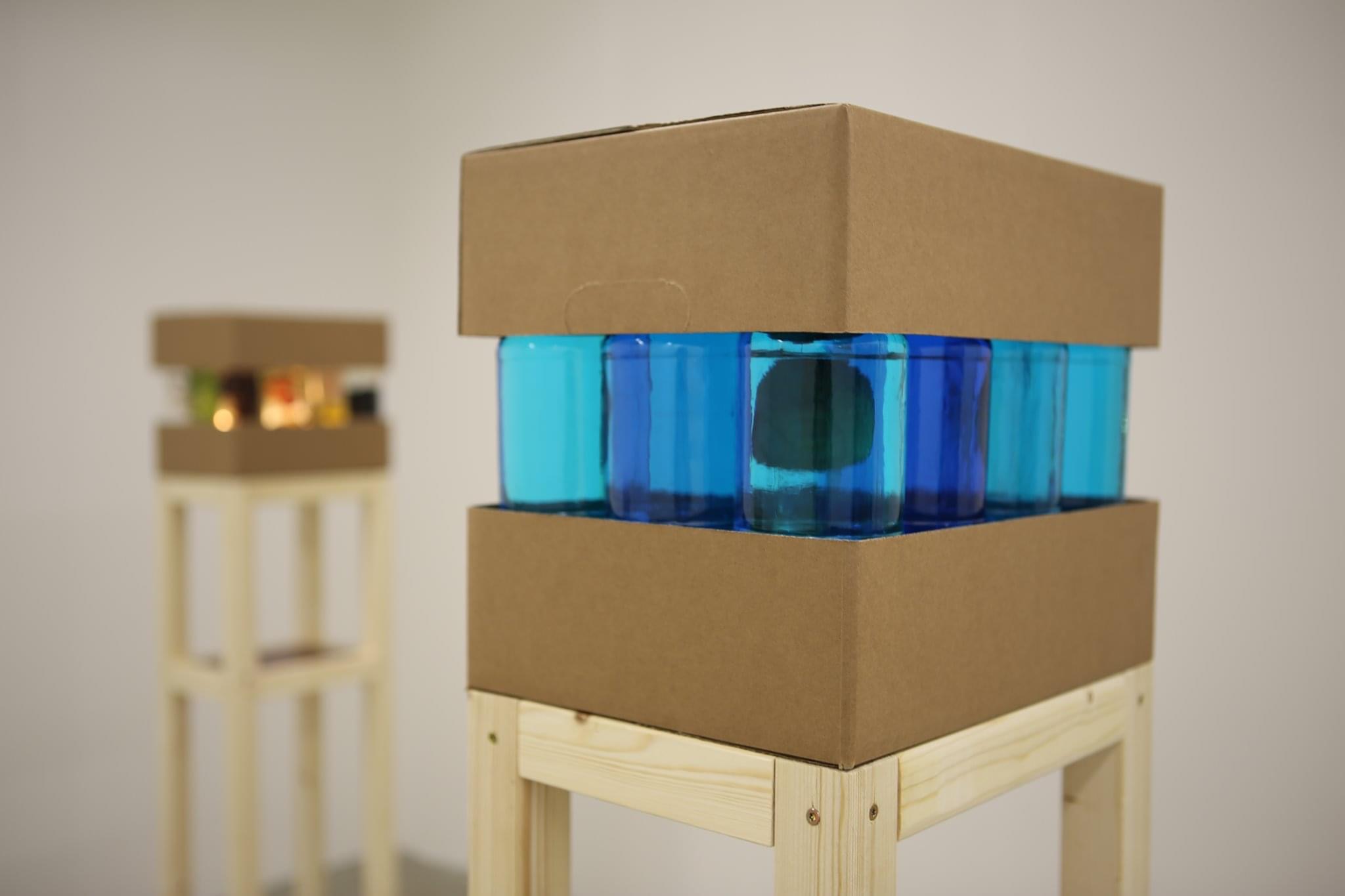 Journal, October 6th 2020
Search for context: The journey to the turnip's grounds.

Autumn rain drips down my forehead, cheeks and fingers, into fertile earth that squirms with busy worms in the ground. I trail uncharted paths, picture hidden realities that ignite curious thoughts of existence and grids of cooperation beneath my feet, thoughts of a collector under the sun, fertile thought in a fertilizing process. From where, when, how does she prosper so unique in a carefully chosen place, surrounded by untamed nature? I trace steps in sunlight that nurtures life and see straggling beams of sunlight in the distance, falling onto a dark ocean shore as I take with me, take seeds with me to keep among the other things moving within my mind. Reality becomes fiction.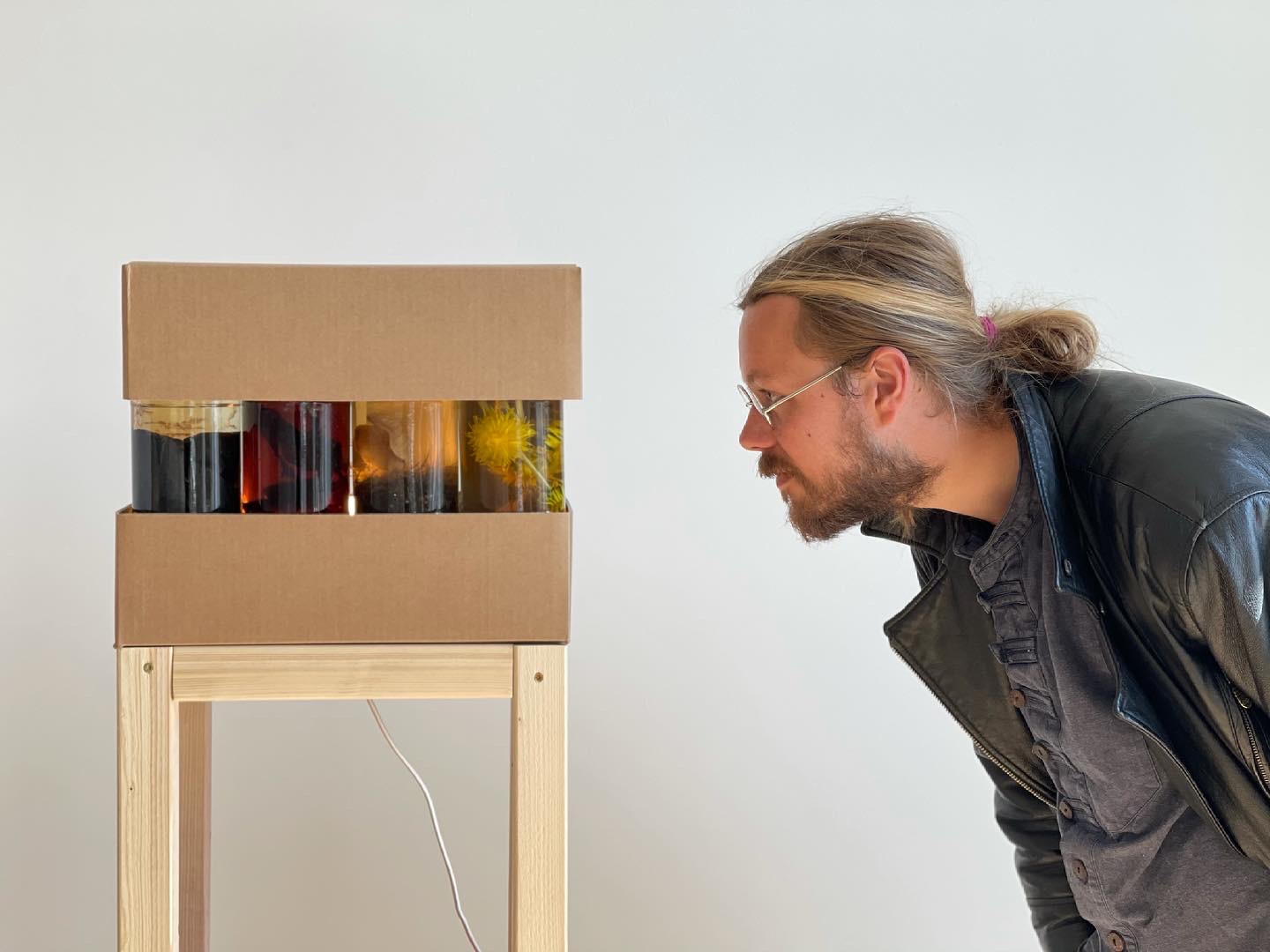 The Kálfafell Turnip (2021). Timber, glass, lightbulbs, lightbox, mircoscope images, stained glass, paper boxes, soil, rain water, sand, red lazer, plants, turnip.